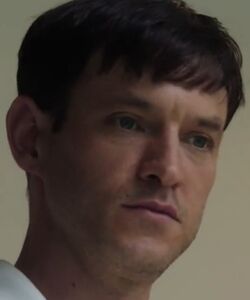 "Johnny McKee"
Dr. Beauregard has done all he can to help Lucy but she's still not out of the woods. He tells Hauser to read to her and gives him a Harold Robbins novel. Since no under 30 has ever read a Harold Robbins novel, this leads one to believe Dr. B is still somewhat stuck in the past. This weeks "63" is Johnny McKee.
While serving drinks to some less than polite patrons, Johnny is insulted and since he's a crazy killer from the past, he doses the next round and the guys all keel over and die. Naturally, Johnny simply takes off his apron and walks away from the whole deal, which ends up on YouTube. This triggers an alarm during Dr. Soto's World of Warcraft game. JJ Abrams seems to really feel the audience wants Dr. Soto's nerd cred re-established every week. Not so much, JJ.
Johnny McKee, in the meantime, applies for a job at a local hotel as a pool boy. While in the waiting room, he learns about a thing called the internet from a guy watching the video on his phone. Since Johnny doesn't know what the interent is, we confirm last weeks assertion that the "63's" arrive in 2012 knowing nothing about modern culture. But somehow he's got all the necessary documentation to get hired right away. Since a lot of America is currently looking for a job, that is a smelly fart of a plot point that's kind of insulting.
Det. Madsen and Dr. Soto get Johnny's address from the bar and instead of GPSing that thing, they actually drive out to the vacant lot that was McKee's home 50 years ago. Make up your mind, "Alcatraz". Either Hugo is King Nerd (and wouldn't have gotten into a car without GPSing that shite) or he's fat comic relief. Pick one. The flashback scenes of McKee in Alcatraz are uninteresting, even when Dr. Sangupta is in them. They seem like a stand alone flashback instead of part of a backstory. As such, I lost interest quickly when I didn't see connections.
Meanwhile, Johnny gets his oversensitive nose out of joint and poisons a pool, killing 5 men. And strolls out the front door without anyone noticing again. Madsen and Soto have discovered that McKee was in the cell next to another "63", Jack Sylvane and want an audience with Jack. Hauser reluctantly agrees and has Sylvane brought up from the Super Secret Jail in the Woods. During his interrogation, Sylvane gives mildly helpful information but gets shut down when he veers into territory Hauser doesn't like.
Tracking McKee to his hideout, the three finally piece together that McKee will try to poison a subway train and rush to the tracks. McKee gains entry into the cab of the subway in the lamest way possible. In post 9/11 America, try to bust in on the cab of a subway or commuter train. See how that goes for you. McKee also sits in the cab while releasing his poison gas. Because we all know the cab is airtight and he's safe in there.
I've committed to watching the rest of the first (and probably last if this means anything) season of "Alcatraz" for you. But let me say now what a colossal disappointment it's been. It was always a shaky premise but it's badly written and horribly executed. Unless JJ Abrams pulls a rabbit out of his ass, "Alcatraz" is headed for the Gas Chamber.
GRADE: D-